Hypoallergenic Jewelry and the Titanium Solution
Hypoallergenic Jewelry and the Titanium Solution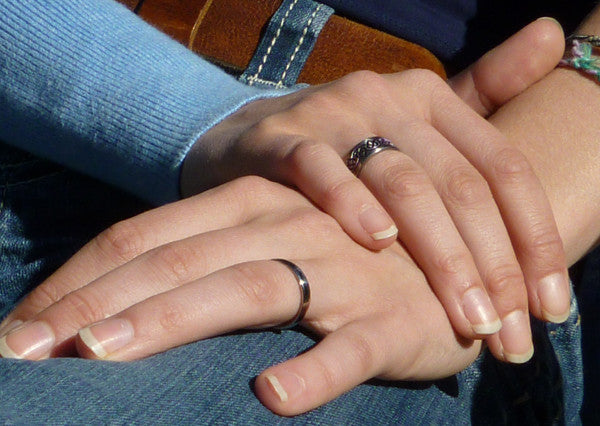 Hypoallergenic Jewelry and the Titanium Solution
If you have skin sensitivities to some metals and you want to wear rings, then you probably wish you could talk to the person who makes your jewelry. A clerk at a jewelry counter may or may not be well informed about the possible nickel or cobalt content of the jewelry.
Nickel and cobalt are the leading sources of allergic skin reactions and are sometimes incorporated in alloys of precious metals when making jewelry. At Titanium Rings Studio, however, you can find out the content of all the materials that go into its handcrafted titanium rings. You will have direct access to the artisans who make the rings and order the raw materials. Concerns about metal allergies can be fully addressed when you deal with a small artisan studio, and you can feel confident about the answers you receive.
Metal allergies affect approximately 10 percent of people, and jewelry made from hypoallergenic titanium offers many people a beautiful way of avoiding an allergic reaction. The hypoallergenic qualities of titanium are well documented and that is why titanium is often used to construct surgical instruments and joint replacement parts, especially hip joints. Lightweight like aluminum and with a strength approaching that of steel, titanium has proven itself to be a versatile and attractive jewelry metal in addition to its hypoallergenic status.
Hypoallergenic titanium jewelry allows some people with metal sensitivities to enjoy wearing jewelry, especially rings since they are usually worn for long periods of time. Titanium rings can also serve as a base material with gold, silver, or platinum applied with inlays on the top outer surface. This technique, which the artisans at Titanium Rings Studio use extensively, offers the strength and low allergy characteristics of titanium along with the beauty of precious metals. Titanium rings with gold or platinum inlays offer an attractive solution for people who have metal allergies and need a wedding ring or engagement ring.
 Metal allergies do not have to eliminate your ability to wear jewelry, especially a wedding band. Many choices are available for hypoallergenic jewelry, and titanium rings provide an attractive and durable option worth considering. With the multitude of styles available in handcrafted titanium rings, you will not even feel like you have to make compromises when selecting jewelry.