The Little Message In The Ring Is Actually A Big Deal
The Little Message In The Ring Is Actually A Big Deal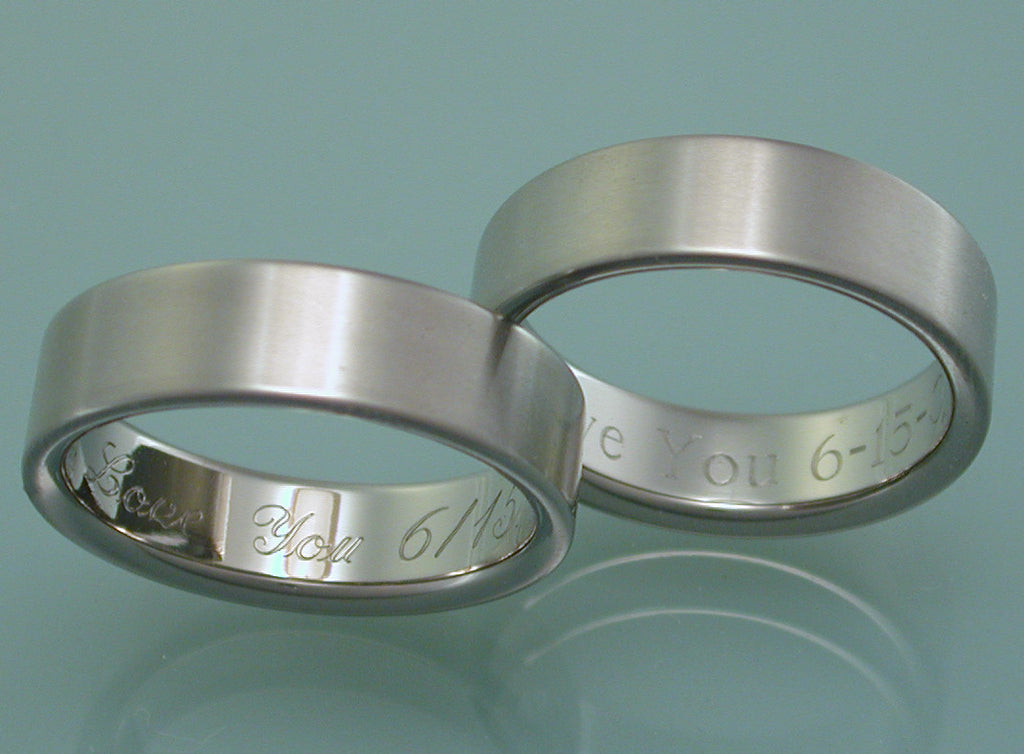 In my 14 years at Titanium Rings Studio, I've been privileged to work with many couples preparing to get married, or renew vows, celebrate an anniversary, or any number of celebratory occasions marking an important event in their lives. Providing customer service for these folks is very exciting, even inspiring and I love my job! Really! I mean I love the part of my job that puts me in direct contact with you lovely people who want to get everything right.
While I can't help with invitations, centerpieces, event planning etc., I'm qualified to help you determine the right size and width for your wedding band. I can coach you on a good design for your life partner or fiancé. I can offer advise on the right finish for your design choice and I can tout facts about the metals being used to make the finished product. If we can't provide the requested item, I can often send you in the right direction. Anything wedding band, engagement ring, diamonds, gold, titanium, silver, platinum, custom ring design, I'm your girl.
And this is where I have to get real with you all! Some of you simply come to our site, see something you like and purchase it without talking to me. You just show up in our online store, put your item in the cart and move on to the next task on your event-planning list (Thanks for your orders!). I get it! You have a lot of ground to cover to make your deadline. There is just one little detail that is being missed in all this rush to get it all done…YOUR ENGRAVING!!!!! That's right, I've said it: the engraving in your ring. Seriously! Can you tell I'm a bit peeved about this? So, I know I've now lost some of you, but really, hear me out. This is huge! Planning for your big event can require a lot of focus and energy, I understand, but here's why you must give this little detail some serious consideration:
The message you engrave into your ring is a time capsule. Where you are right now will never be again. There are little things we all say to each other everyday that may fade away with time. Don't lose that! You will regret it, I promise.
Including the date in the engraving, along with your endearing message will ensure no one forgets the anniversary in the future. This is more important than you know. I know you don't believe you could possibly ever forget a date so memorable but take it from a professional in the business, it happens. And it will make you sad!
Things change! As we go through our lives together our bodies change, our personalities alter, and our health can change. We can go through fazes of disinterest or disaffection. We can become apathetic or lazy about relationship and love. The condition of our wedding bands change as well. They may have lost some shine and sometimes in our relationships, things can look dismal. This is all part of being together. One thing that won't change is that message in your engraving. IT IS ENGRAVED! IT WILL NEVER CHANGE! This little detail could have big meaning to you one day and it can make all the difference.
Creating a unique message together can be fun. Get creative, make it a game, be sneaky, make it a surprise. However you do it, consider it one of the first exercises you do to start your next chapter on a high note.
Now that we have gone through the list of the top four reasons I can think of for getting your rings engraved, let me continue with a few more details on this topic. In my experience, many of you are nervous about coming up with a meaningful message in a few short words that can fit on a ring. Here's the deal, simple is best. Don't overthink it, just do it. It doesn't have to be epic. It doesn't have to be poetry (unless you want that); it doesn't have to be deep. It can be funny, or something only the two of you get. Remember, it's on the inside of the ring so it's just for you. And this, seriously, please stop with the "Forever & Always". I have seen it said, "Till We Are Penguins". Now isn't that cute! You can do it, just give it some time. Get relaxed, go for a walk, spend some time in nature and tune in to your inner love channel with a little humor thrown in. Your future self thanks you and so do I!
To see a list of suggestions to get your gears turning, check out our engraving page.